Carew Castle Pembrokeshire 
Project 2 – Carew Castle Pembrokeshire
INTRODUCTION
Some of you may remember the location of this project's subject – Carew Castle. It was in May 2010 when for our Patchings Painting Holiday we visited the Welsh coastal village of Saundersfoot, just a few miles along from Tenby. During our time together as well as visiting Laugharne (once home to Dylan Thomas) we spent a very pleasant afternoon painting at Carew Castle – happy memories.
Our view of the castle takes in one of the side towers as we look across the tidal water, which once fed the now dry moat. The strategic location of the building is reinforced by evidence of an Iron Age fort discovered some time back. Originally built on the the lines of Norman stronghold around 1095, the castle has been owned on and off by the de Carew family. During the Civil War the castle was owned by Sir George Carew who supported the King.  It was garrisoned at different times by both royalists and parliamentarians. Eventually it was left abandoned in 1686 following its' final occupancy. In 1983 the National Park Authority leased the castle and surrounding area for 99 years, whereupon a programme of restoration began bringing about better accessibility for visitors.
As a subject Carew Castle has attracted artists through the centuries including Turner when he visited in 1795, John Piper who considered various aspect of the castle and Russell Flint – to name a few – so we are in good company.
Inspiration.
We turn to a contemporary artist – known to many of us, as inspiration for this session. Not the same subject, although a similar composition is by Susan Isaac, 'Southwell Minster in the Spring'. Her view along and over the grass foreground, guided by the fence is like the Carew image. Both have the edge of a tree maintaining an interest in the building beyond.
Our thanks to Susan for allowing us to use her painting as part of this exercise. For further information about Susan and to see more examples of her work visit her website at – www.susan-isaac.co.uk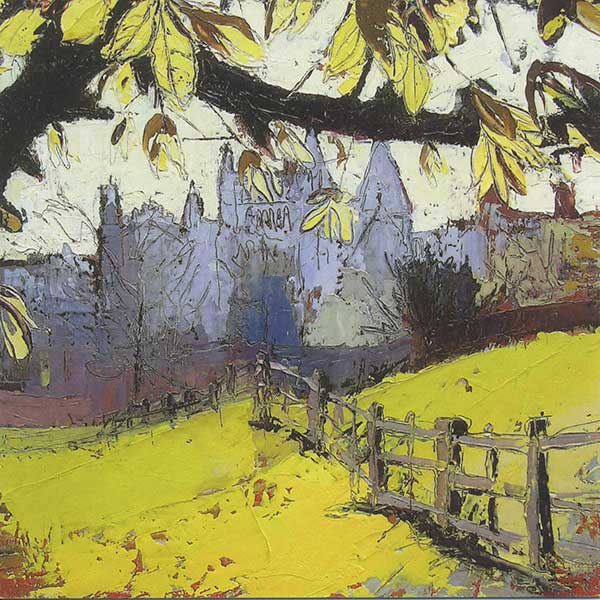 Composition.
Feel free to crop the image and contemplate your composition. A reminder of how helpful a series of thumb-nail sketches can be in deciding what suits and what will work for you. We would encourage you to keep various aspects of the subject, including of course part of the castle. Other elements would include the fence, wall and tree. With the latter you may want to add leaves. Part of your consideration might also be related to format – landscape, portrait or a square might work well.

Materials.
The choice of medium is yours, although gouache may be more difficult as our approach is to begin with an under colouring before adding the top colour.
A suggested palette would include the following:-
Alizarin Crimson, Burnt Sienna, Cadmium Red
Cerulean Blue, Cobalt Blue, Ultramarine Blue
Lemon Yellow, Raw Sienna, Cadmium Yellow
White – if using an opaque medium.
Although we want you to work your own magic with this exercise, please use the following approach to begin the painting.
Colour the painting surface with a combination of Burnt Sienna at the top working downwards, gradually adding the Cadmium Red towards the bottom.
This will need to dry. Hereafter it is up to you, but do consider the following.
Obviously the under colour will influence the added colour. But note how Susan has allowed the under colour to play a part in the finished colour.

We can use a similar colour for the castle as she has used for the Minster, it provides a lovely colour combination with the under colour.

Brush strokes are important particularly in their use of describing the subjects.

She has added a loose outline to areas. If you are following this idea, oil painters might make marks over wet paint. This approach could also be used for those working with pastel. An option for the watercolour painters is to add an outline with ink.


Best of luck
Below is Turner's sketch of Carew Castle executed during a visit in 1795 (by courtesy of Tate Britain). We also see Glenys tackling the same view, the resulting work has been lost to the nation!
In due course these will be replaced by your work as and when they are received. We look forward to seeing your response to this subject.
If you have any queries you can see below an area for asking questions.
Feel free to use this facility – it will be good to hear from you.
If you need some advice please do not hesitate to contact us, by filling out the form below:
Don't forget the little addition sum next to the 'Submit' button – this is to let us know that you are not a robot!