LOVE 1967 by Robert Indiana (1928-2018)
Project 1 – LOVE 1967 by Robert Indiana (1928-2018)
We have selected an American Pop artist to feature in our first challenge. Robert Indiana, originally known as Robert Earl Clark was born in 1928 in the town of New Castle, Indiana. He took the surname Indiana when he moved to New York in 1954, as an announcement of his fascination towards Pop art, signage and the power of ordinary words.
He studied at the Art Institute of Chicago between 1949 to 1953 and then year at Edinburgh College of Art, returning to New York in 1954 where he settled. There he set up a studio, met and collaborated with fellow artists.
Whilst at college, he studied printmaking techniques and settled for screen printing which suited his simplified forms and the 'electric colours' he favoured. Screen printing gave him the flexibility of creating variations using the same screen to produce a series of work. In all he produced 160 designs and prints, working with commercial and fine art workshops worldwide.
His best known work is the one selected for our challenge, LOVE 1967 a work he produced in that year. Although initially created to work along side poetry, he was commissioned to produce the piece in many forms. For example a Christmas Card for the Museum of Modern Art in 1965 and a US postage stamp in 1973. LOVE appeared in prints, paintings, sculptures, banners . . . we could go on.
LOVE is an accessible word, with a complex meaning linked to the erotic, religion and political underpinnings. The word was also translated into Hebrew for a print and a sculpture at the Israel Museum in Jerusalem. Indiana once wrote of himself, "I am an American painter of signs charting the course. I would be a people's painter as well as a painter's painter". He died on 19 May 2018 the year of his exhibition 'LOVE Long: Robert Indiana and Asia' at the Asia Society in Hong Kong.
Instructions.
1. The format used is a square – a good size would be 8′ x 8″ (approx 20cm x 20cm) we are not to the odd cm.
2. Each letter takes 1/4 of the area.
3. Each letter touches the outer edge.
4. The letters are not all upright.
5. Only three colours are used.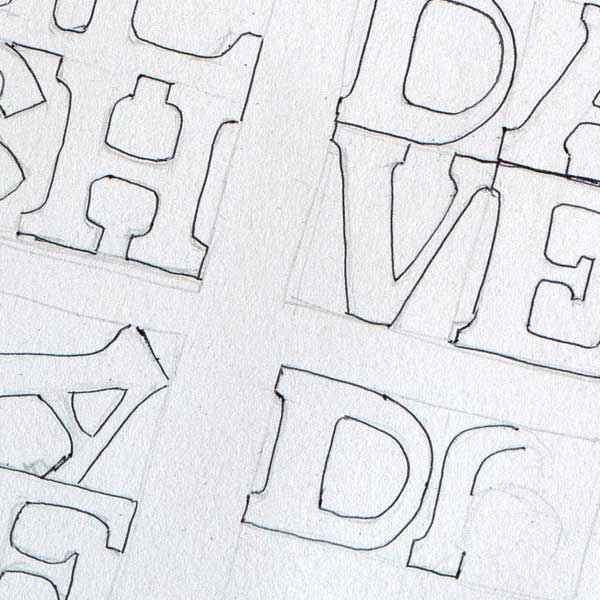 What you need to do
1. Use the same size.
2. Choose your four letters only – make them significant eg. Abbreviations, initials.
3. Divide into 1/4's one for each letter.
4. Consider tilting as well as upright letters, making it interesting.
5. Ensure each letter touches the outer edge.
6. Selecting a colour – your choice – but do consider making the colours exciting and 'electric', do restrict yourself to three colours.
7. Choose your own medium – suggestions would be gouache, pastel, watercolour or coloured pencil.
8. We do suggest you look at producing a series of 'thumbnail' sketches to test the design and composition.
9. Alternatively you can be a free spirit, but you must only use three colours and four letters, within the same size square.
Tips on completing the painting
Please use your imagination and think about the design – letting your hair down would be a good attitude.
Don't forget the importance of negative shapes in making up your design.
YOU CAN SEE SOME EXAMPLES OF YOR HARD WORK BELOW.
Scroll through the gallery below. Click on the image for a closer look to see the full squares.
Congratulations a great display of work.
If you need some advice please do not hesitate to contact us, by filling out the form below.
Don't forget the little addition sum next to the 'Submit' button – this is to let us know that you are not a robot!